Get ready for an extraordinary literary journey as Radhaa Publishing House, in collaboration with Portal To Ascension, announces a multi-author Europe book tour, starting in the mystical land of Avalon Glastonbury. This enchanting tour will feature the renowned author, Joan of Angels, presenting her chapter "Channeling Hathor" from the anthology "Stories of the Goddess." Attendees will have the unique opportunity to meet Joan and receive signed copies of this collaborative book, boasting authors from around the globe.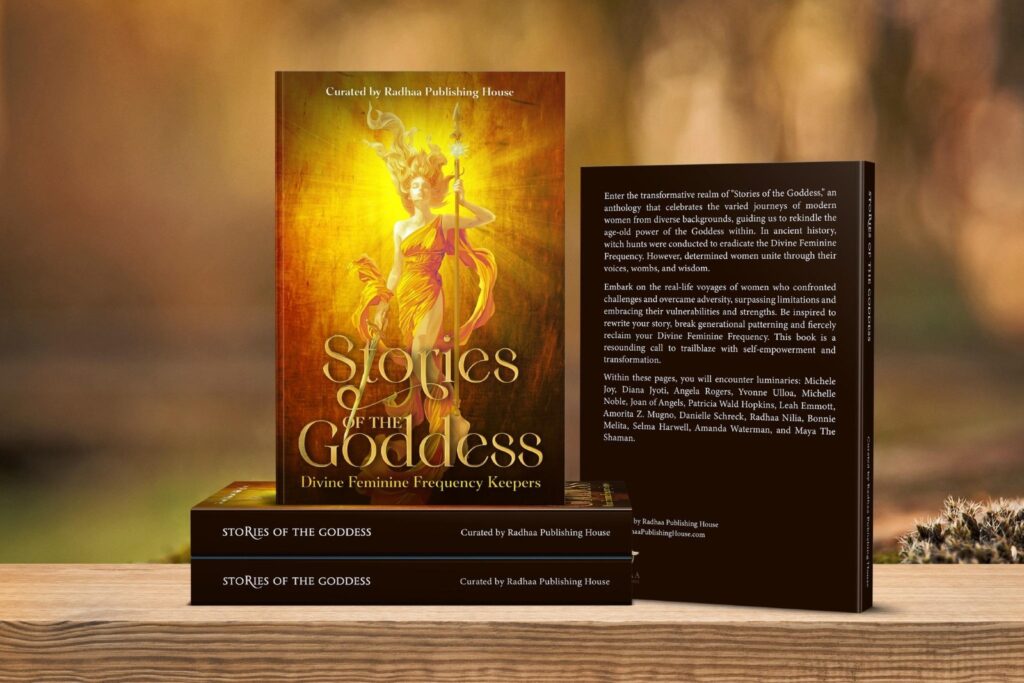 "Stories of the Goddess: Divine Feminine Frequency Keepers" delves into the depths of history when witch hunts sought to extinguish the essence of the Goddess and her Divine Feminine Frequency on Earth. However, the flame couldn't be quelled, and unyielding women rose united, sharing their real and inspiring journeys. This anthology celebrates the extraordinary power of ordinary women and the glorious return of the Goddess, weaving her magic through everyday lives.
Joan of Angels, also known as Dr. Joan Hangarter, the Oracle of Ancient Wisdom, is renowned for her visionary art and soul essence portraits. With her deep connection to the angelic and galactic realms, she acts as a spiritual advisor, guiding people to unlock their true potential and step into their sovereignty. Joan will share her life memories in Egypt and her powerful connection to Goddess Hathor during the Avalon Glastonbury tour stop.
The Avalon Glastonbury event is not just a book signing; it's an invitation to unlock the dormant magic within. Alongside Joan of Angels, fellow authors from Radhaa Publishing House will be reading from their captivating works, such as "Energy Healing & Soul Medicine," "Awakening Starseed: Vol. 1, 2, and 3," "Infinite Cosmic Records: Sacred Doorways to Healing & Remembering," and "Dolphin Odyssey." These literary masterpieces explore cosmic consciousness, past lives, and spiritual enlightenment.
The Avalon Glastonbury event will occur at the Glastonbury Goddess Temple on August 10, 2023, from 1:30 to 3:30 p.m. BST. The venue, The Goddess House, a landmark of Avalon Glastonbury, is a charming Georgian house overlooking Glastonbury Abbey grounds on Magdalene Street 2-4 High Street, Glastonbury, GB BA6 9DU.
Following the book reading and signing event, Joan of Angels and the authors will participate in the "Ascension Glastonbury" event organized by Portal To Ascension. This transformative event will be held at the Assembly Rooms on High Street, Glastonbury, GB BA6, from August 11th to 13th, 2023. Attendees can join this event through the link: https://ascensionglastonbury.com/.
The collaboration of influential authors and speakers promises to create a captivating fusion of art, inspiration, and community. Beyond traditional book signings, this event offers thought-provoking discussions and insights from esteemed speakers from Portal To Ascension, elevating your understanding of the profound themes within these literary treasures.
Join Joan of Angels and the Authors for an enchanting experience that will ignite your imagination, expand your horizons, and inspire you to join the grand call for change. Discover the magic of words and immerse yourself in a realm where literature transcends boundaries and dreams come to life. www.JoanofAngels.com.
About Radhaa Publishing House: Radhaa Publishing House – Unleashing Brilliance in Aspiring Writers! Welcome to Radhaa Publishing House, where the belief in dormant brilliance within every aspiring writer fuels our passion and purpose. As a dedicated publishing house, we stand as a beacon of inspiration and opportunity, committed to uncovering and nurturing literary all-stars destined to make their mark on the world. We are not just a mere publishing house; we are mentors and editors dedicated to refining the craft of our authors and honing their unique voices. Our commitment to excellence goes beyond the mere act of publishing, as we provide comprehensive resources and guidance to ensure the success of our esteemed writers. If you're ready to unleash your brilliance and let your dreams take flight, Radhaa Publishing House eagerly awaits to welcome you into our literary family.
Join us on this extraordinary adventure where aspiring writers become shining stars in the vast universe of literature! Please visit www.RadhaaPublishingHouse.com or Linktree https://linktr.ee/RadhaaPublishingHouse. Stay updated on the European Book Tour by connecting with them on Instagram at https://www.instagram.com/Radhaa Publishing.