"Stories of the Goddess: Divine Feminine Frequency Keepers"
Curated by Radhaa Publishing House
Author Spotlight: Danielle Schreck
"Stories of the Goddess: Divine Feminine Frequency Keepers" is a powerful and inspiring book that celebrates the courage and determination of women who listen to their hearts and follow their inner knowing above all else.
For too long, women worldwide have been suppressed and subjugated, forced to hide their gifts to survive in a patriarchal society. But now, these women have reclaimed their inner magic and embraced their divine feminine energy, rising above obstacles and serving as champions of the Goddess.
The book showcases various archetypes of the Goddess, offering a glimpse into a world where the divine feminine and masculine work harmoniously to create a better future for all. The stories of resilience, courage, and determination will inspire you to tap into your inner magic and rise as a champion of the Goddess.
As the keepers of our ancestral heritage, charged with upholding the honor of our families and tribes, the Divine Feminine calls upon us to use our hearts and wombs to create a better world with love and integrity. Within each of us lies the power of the Goddess, waiting to be awakened by the unique light frequency we emit.
Join the movement of women worldwide who are rediscovering their inner magic and rising to their rightful place as leaders and visionaries. "Stories of the Goddess: Divine Feminine Frequency Keepers" is a reminder that we all have a connection to the divine feminine, waiting to be awakened by the stories of those who have come before us. Get your copy today and tap into your own inner magic. And today, we are interviewing the incredible Danielle Schreck! Welcome, Danielle!  🙂
Q. Can you tell us about your journey to connecting with the Goddess?
A. Connecting with the divine feminine energy has weaved through so fluidly in my lifetime. Just like many, I've experienced many challenges, adventures and lessons that have led me to creating this chapter. I see it as the "Cycle of Death and Rebirth." The connection with the Goddess has been with me during these stages, but it wasn't until I started the journey into my healing, with Radhaa's modality of "Goddess Activations" that Activated and bridged everything together for me. The Goddess was weaving a journey of self love, mastery and stepping into my own embodiment of leadership. The experience with Radhaa Publishing has helped me to express this empowered awareness as I've become the woman I am today. This catalyst experience has continuously pushed me beyond my comfort zone. Today, I now share several mind-expanding interviews on YouTube with others on several topics and work to bridge information and support for others along their journey.
Q. How has embodying the essence of the divine feminine impacted your life and work?
A. Just like many women, I have experienced the feeling of disempowerment, criticism (not just from self), overgiving, extreme sensitivity to the point of over-giving that further caused insecurity, and much more. It is the journey that has taught me to fully be myself, step into my power, speak my truth, forgive, heal traumas and give more self love that has been a deeply rooted experience of this path. I have become more patient, stronger and wise because of it. I wish to only share with others as I continue this path. I really feel called to embody my inner leader and be an example to my best ability as I uphold boundaries and continue to grow through challenges. I know I am not perfect, but aim to be a space holder for myself and others. I too, realize as an empath, that the goddess impacts my life in ways that help me remain in a space of my fierce flame shining as a raw, empowered and centered woman that feels so deeply. There is so much to learn about the essence of the divine feminine, and I will remain a student as long as I'm alive!
Q. Can you offer any advice to women who are just starting on their journey with the Goddess?
A. I will speak from my experience, but realize it may be different for others. I truly feel that "tuning-in" is a beautiful way to start. This empowers you to listen to the heart and soul without seeking validation or reassurance from others. The process allows you to trust yourself, and inspires you to work on taking full control of your life at the pase in which you can handle. It is something I still work on and when challenged, only then, I deeply learn a more profound lesson. I would like to add the importance of taking time to nurture yourself, and give yourself permission to experience in different ways that work best for you. The signs and synchronicities will lead you, so trust and the goddess will speak in ways unique to you!
Q. Can you share your thoughts on the role of the divine feminine in creating a better world?
A. We are at a time where great shifts and changes are occurring on the world stage. With the love and support of the divine feminine, we're here to co-create a world in which we are fully supported and empowered in order to birth a new world. The shift begins internally, and with this internal trust, we rise to receive the assistance that is needed as we cycle the death and rebirth phases we experience in all situations throughout life. The message in the chapter I speak on is to the point and straight forward. The divine feminine is here to support leadership and acceptance in the process of this transition from a Victim-slavery mindset to Empowered-Champion!
Q. How do you see the Goddess Awakening and rising in the world today?
A. Many souls on this planet have been controlled in what we would call the "Old System" that seeks to control, dominate, and limit our consciousness. With the Awakening occurring, many are seeking other ways of living and living from the soul rather than disempowered control. We are breaking patterns and shifting a new way of life! I see the goddess supporting those who feel the call and take action to shift this timeline. It happens through our fierceness, inner-strength, integrity, love and nurturing of the birthing process as we let go of the old ways. It's so symbolic in my perspective. We are growing by the numbers and will not be silenced like in the past! We are here to create magic and support all that are seeking to bridge a higher perspective for a brighter world!
Q. Can you speak to the importance of sisterhood and community in the journey of the goddess?
A. Connecting with sisterhood is so important for us all! It's so important to have a healthy relationship with ourselves, our sisters and community. We are meant to support, rise and empower each other. We truly deserve to have a tribe assist and help without the distortions that this world has hypnotized many into thinking. The time has come where we must break the chains in which there has been disempowerment for the divine feminine. We are no longer going to feel shameful and speak curses upon others. These are the old ways, the way in which you look for acceptance from outside to be accepted, a distorted vision that was initially meant to disempower and encapture into a limited way of life. We must look from within and strengthen our discernment. Step into love and that requires radical acceptance, patience, trust, support, vulnerability, truth, creativity and so much more the goddess can teach. This is important as we are all truly interconnected. We can truly manifest a higher vibrational world in sisterhood and community as we RISE TOGETHER!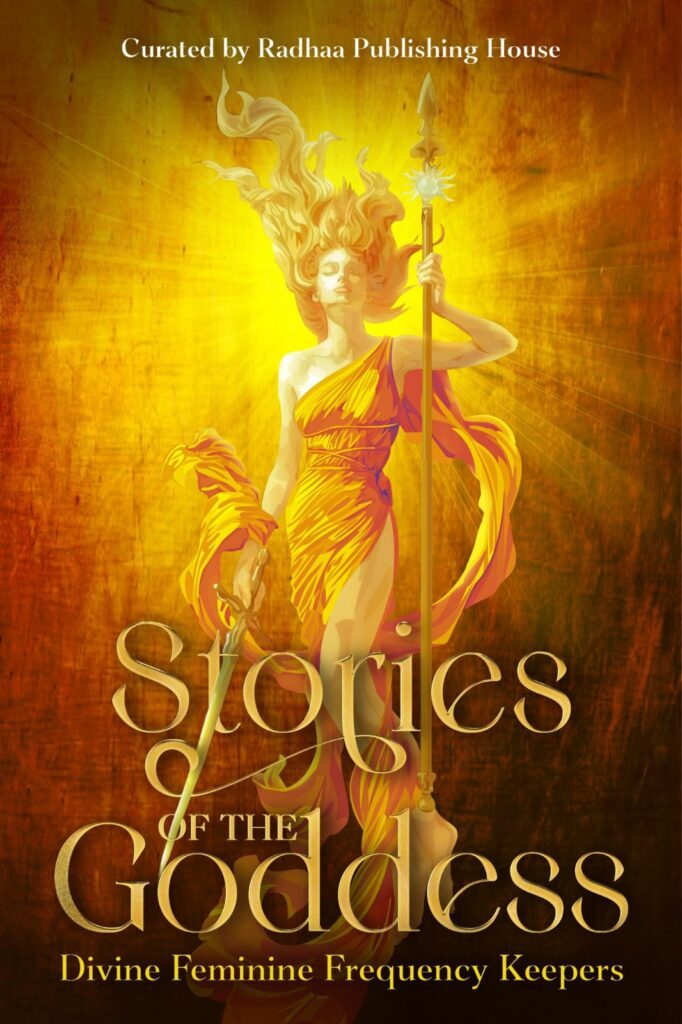 Q. What do you hope readers will take away from your chapter in Stories of the Goddess?
A. I hope readers will listen to their souls and embody the empowerment of what the Goddesses are conveying. I hope they realize they're not alone, fully supported, inspired and greatly receive the change that is needed in order to shift into this new way of life, that brings them all the world can offer for a highly vibrational world!
Q. How do you feel about the overall experience of being a part of the Stories of the Goddess book project and working with Radhaa Publishing House?
A. I feel so honored to be a part of such a high vibrational book! It has shifted me into understanding the importance of leadership, and shown me how much I've grown during the process. Radhaa and her team have been supportive every step of the way and I thank them deeply from the bottom of my heart! I'm so grateful for their commitment and expertise, so this amazing book can get out and become a beacon and a catalyst for change across the world.
Q. What advice do you have for other authors looking to collaborate with a publishing house and get their work published?
A. I would recommend looking into what most publishers offer. It was very clear to me after seeing what was out there! The quality and value I received as a contributing writer is what helped me to understand how a collaborative book program is one of the best ways to publish; when you're looking to share your voice. So much work behind the scenes goes into this. I wanted something much more professional than doing it on my own. I am beyond happy with the experience and support I received during the process!
Q. What are your specific offerings and how can people find you?
A. I enjoy hosting interviews from an energetic space of "Conversations from the Heart" hence- the name of my YouTube Channel. I  work one on one with those who would like to be interviewed and love to collaborate.  I also offer Pendulum Healing, so  you can find me on Etsy! Soon, I'll be learning a new modality in the coming year called "Lemurian Code Healing" created by: Maya the Shaman. Lastly, I am an Ambassador with Radhaa Publishing House and assist with the process of Authors looking to publish their work. Should you be interested in the upcoming books or desire to publish your own book, please contact holisticprbridge@gmail.com. Either way, find me on any social media platforms and let's connect and let's have fun creating a brighter world together!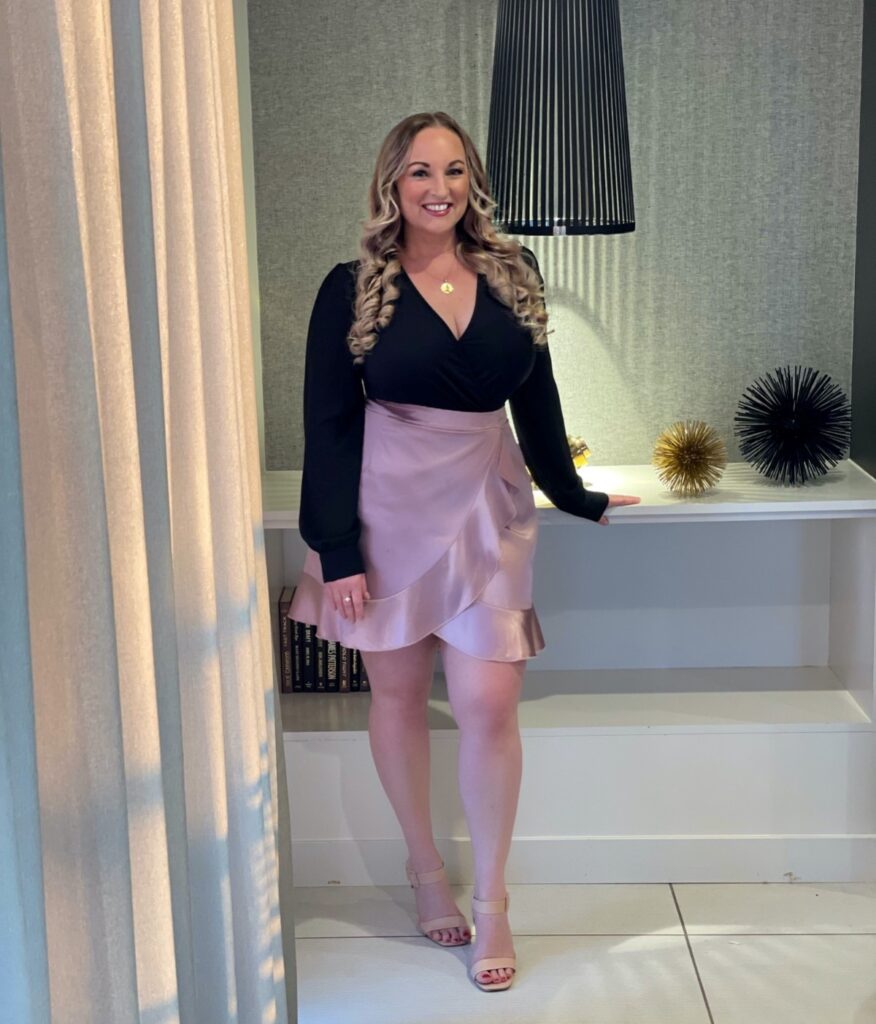 Danielle Schreck, is an Empath that loves connecting with people. She specializes in hosting interviews with holistic healers, and topics related to the Divine Feminine, awakening, and inspiration. You can find the videos on YouTube via Conversations from the Heart. She also specializes in Pendulum Healing and offers private sessions and Monthly Group Healing Events. As a Graduate of Goddess Code Academy: A Mystical School for the Divine Feminine, she is Certified as a Spinning Goddess. Danielle is also Contributing Writer of "Pillars of Light: Stories of Goddess Activations." and Energy Healing and Soul Medicine Vol 2, the best-selling book and Collaborative Healers Directory and Infinite Cosmic Records: Doorways to Healing and Remembering with Radhaa Publishing House. Contact Danielle @HolisticBridge
YouTube Channel: http://bit.ly/3UL6VN7
Etsy: etsy.me/3xi0Jnx
Instagram: Aphrodite.Heat.Vibes
Join the movement of women worldwide rediscovering their inner magic and rising as today's feminine leaders. Tap into your inner goddess with "Stories of the Goddess: Divine Feminine Frequency Keepers" at bit.ly/3Z8zeXE. Unleash your writing potential and become part of the community of conscious authors at Radhaa Publishing House, where we champion the voice of the feminine. Collaborate with like-minded writers on a journey to publishing success and join our community of goddess storytellers. Elevate your writing and connect with a community that shares your passion for conscious living and empowerment at www.RadhaaPublishingHouse.com or www.TheGoddessCodeCollective.com.