Radhaa Publishing House, an innovative boutique publishing company, extends a heartfelt invitation to poets, wordsmiths, and dreamers from all corners of the globe. Prepare to embark on an extraordinary poetic journey that promises to etch your name into the annals of literary history. We are thrilled to introduce "Poems From The Heart," an immersive Author Incubator program culminating in the release of a highly anticipated collaborative poetry book set to launch in the spring of 2024.
About "Poems From The Heart":
Poetry serves as the language of the soul, a canvas to vividly paint the tapestry of human experience—from the tender embrace of love to the profound depths of sorrow and joy. If your heart resonates with the unspoken emotions that reside within, this opportunity is tailor-made for you. Dedicate your verses to loved ones, departed souls, or the passions that fuel your spirit. Let the echo of your heart's voice reverberate through our Author Incubator, commencing in November 2023.
Join the Author Incubator Journey:
Mark your calendars for the Author Incubator Writing and Zoom Dates start in November. Daily check-ins and continuous support will be provided through our dedicated Facebook group. During these sessions, you will embark on an intimate Author Incubator journey guided by expert facilitators. Receive prompt feedback and unwavering support as you craft your poetic masterpieces. Don't fret if you can't make a call; our private Facebook group ensures you remain connected with a diverse community of poets and writers worldwide.
Promo Meeting Period: Our Promo Meeting Period kicks off in January, culminating in the ebook pre-sale launch on Jan 24, 2024, followed by the grand release of the Paperback on February 14th, Valentine's Day! All crucial updates and meetings will seamlessly be shared within our dedicated Facebook group, ensuring you won't miss a moment of this poetic journey.
The Incubator Experience: Our Author Incubators serve as sacred sanctuaries, nurturing your poetic spirit. Immerse yourself in a supportive community, receive expert guidance, and unlock the full potential of your inner wordsmith through engaging writing practices and lessons. Whether you're a seasoned poet or a blossoming talent, your wisdom becomes a cherished addition that empowers newer poets. Classes are structured bi-weekly to maintain your creative momentum.
"Poems From the Heart" Anthology: "Poems From the Heart" represents a collection of deeply personal and emotionally resonant verses—a window into the author's soul. From tender intimacy to bold profundity, these poems invite readers on a voyage of self-discovery and emotional connection. We embrace all styles of poetry, from lyrical to evocative. This anthology encapsulates the human experience in all its complexity. Participating poets can stand alongside talented writers from across the globe.
Poetic Packages: Choose your path to poetic greatness with our exclusive packages:
Gold Poet Package: A three-month journey from Author Incubator to Best Selling Poet.
Platinum Poet Package: A comprehensive three-month program to elevate you to the status of Best Selling Poet.
Ultimate Poet Package: A comprehensive package for the most ambitious poets.
Find more: https://linktr.ee/RadhaaPublishingHouse.
The Incubator Advantage: Each package includes a four-week author incubator program, nurturing your poetic prowess under the guidance of publishing industry professionals. An international press release also amplifies your reach, introducing your work to a global audience. This is your moment to share your most personal and emotionally resonant poetry.
Leave Your Poetic Legacy: Seize this remarkable opportunity to join our Author Incubator, emerge as a published poet, and carve your legacy within the pages of this exquisite book. Following your payment submission, anticipate a response within 48 hours. We eagerly await the opportunity to collaborate with you on this sacred project.
Benefits of Joining the Author Incubator to Best Selling Poet Program: Unlocking Your Poetic Potential: The Author Incubator to Best Selling Poet program by Radhaa Publishing House offers an immersive journey for poets, providing a unique blend of creativity, mentorship, and promotion. Here are the incredible benefits you'll experience on your path to becoming a Best Selling Poet:
Guided Poetic Exploration: Our four-week Author Incubator Writing Program offers a structured and supportive environment to nurture your poetic talents. You'll receive expert guidance, writing prompts, and feedback to help you craft your best work.
Amplified Exposure: Aspiring poets often struggle to find their audience. With our program, you'll benefit from an International Press Release that introduces your poetry to a global audience, giving you the exposure you deserve.
Dedicated Poetry Pages: Depending on your package, you can showcase your work with three to nine dedicated pages in the collaborative poetry book, "Poems From The Heart." Your verses will stand out as a testament to your poetic prowess.
Wholesale Copies: Receive wholesale copies of the collaborative book, allowing you to share your poetry with friends, family, and readers, further establishing your reputation as a poet.
Online Magazine Feature: In the Platinum and Ultimate Poet Packages, you'll have the privilege of a solo poet interview in an online magazine. This feature elevates your profile and provides a platform to share your poetic journey with a wider audience.
Early Bird Advantage: Secure your spot at the current early bird rates, providing an affordable and accessible opportunity to fulfill your poetic dreams. Prices will increase on November 1st, 2023.
Supportive Community: Join a community of poets and writers from diverse backgrounds, fostering a nurturing environment where you can learn, grow, and collaborate.
Personalized Feedback: Receive constructive feedback on your work, helping you refine your poetry and gain valuable insights from experienced poets and mentors.
Global Reach: "Poems From The Heart" is an international endeavor, allowing your poetry to connect with readers from various cultures and backgrounds.
Legacy Building: By becoming a Selling Poet, you'll create a lasting legacy as a published author, ensuring your poetry inspires and resonates with readers for generations.
Join our Author Incubator to Best Selling Poet program and take the first step toward realizing your poetic dreams. Unleash the power of your words and become a renowned poet in "Poems From The Heart." Your poetic destiny awaits!
Take the chance to secure your spot at the early bird rates. Enroll today and make your mark on the literary world. Join us in unleashing the power of your words, sharing your heart's whispers, and becoming a "best-selling poet" in "Poems From The Heart." Your poetic destiny begins here.
About Radhaa Publishing House: Radhaa Publishing House is a boutique publishing company run by women of color, dedicated to empowering authors to share their unique voices with the world. We specialize in publishing books across various genres, including holistic wellness, self-help, personal growth, poetry, and memoir. In addition to our publishing and PR services, we offer a variety of ways to support authors, including author incubators, collaborative books, mentorship, and training programs.
Books can transform lives and communities, and we are committed to creating a positive impact for authors now and as part of their legacy for generations to come. Through our support and mentorship programs, we help authors develop their writing skills, build their brand, and amplify their voices.
Our cutting-edge publishing technologies and marketing strategies ensure each book reaches its intended audience. In contrast, our experienced team of editors, designers, and marketing professionals works closely with each author to ensure their vision is fully realized. We are passionate about promoting diverse voices and perspectives in the literary world. We strive to create a supportive environment where authors can thrive and succeed. By amplifying underrepresented voices and bringing important stories to light, we aim to make a lasting impact on the literary world and create a legacy for generations to come.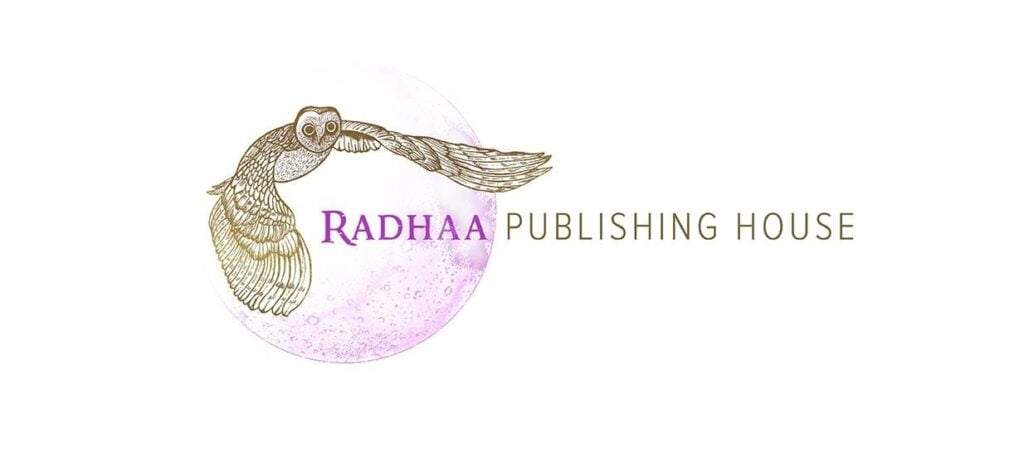 Find more: https://linktr.ee/RadhaaPublishingHouse
Website: www.RadhaaPublishingHouse.com
Instagram: https://www.instagram.com/Radhaa Publishing
Facebook: www.facebook.com/radhaapublishing
YouTube: https://bit.ly/3z7wJe2