OCTOBER 2023/DALLAS, TEXAS-
Slab Osiris is an engineer and producer from Dallas, Texas. Slab Osiris continues to be sincere and resolute in his efforts. Both Slab Osiris's dedication to greatness and the inspiration of those around him have remained constant. Slab Osiris talks about his goals for the future and the inspirations for his tenacity. "Right now I'm working on my third Project that I intend to release by next year and it'll be titled "VERY SIRIUS" named after a star that's sitting up in space and there's a connection between Osiris and Sirius. I'll be performing at Club Dada November 8th with prerollatx for an opportunity to perform at SXSW. There will be some amazing talent in attendance."
By working with a wide variety of individuals, Slab Osiris has remained consistent and relevant in the entertainment scene throughout the years. His inspiration for his work comes from family. "Belief and Faith. I know these feelings have carried me through any and everything on my journey so far. Belief is important to have because and it is actually what keeps a person moving forward and Faith is needed because it gets hard out here as a human being on the planet and we all go through a period of suffering and feel a sense of being lost but that's when faith is tested and the question is do you still believe in what you don't see?"
Known as being an influential, resilient, and open-minded person overall, Slab Osiris has high hopes for his work. In order to build on his current success and continue to inspire others, Slab Osiris is now concentrating on maintaining his inspirational grind and building on his work ethic. He provides advice on some crucial elements of his work and sources of motivation. "Mainly, Be yourself, focus on yourself and focus on your growth. Because I feel like we as people can get stagnant very easily because we stick to the same routine and forget we always have a choice to do something different. We just like comfort. So we should be seeking uncomfortability." Slab Osiris constantly retains his focus on the end result, which he is aware is crucial if he wants to succeed. Slab Osiris has made the correct decision and remains steadfast.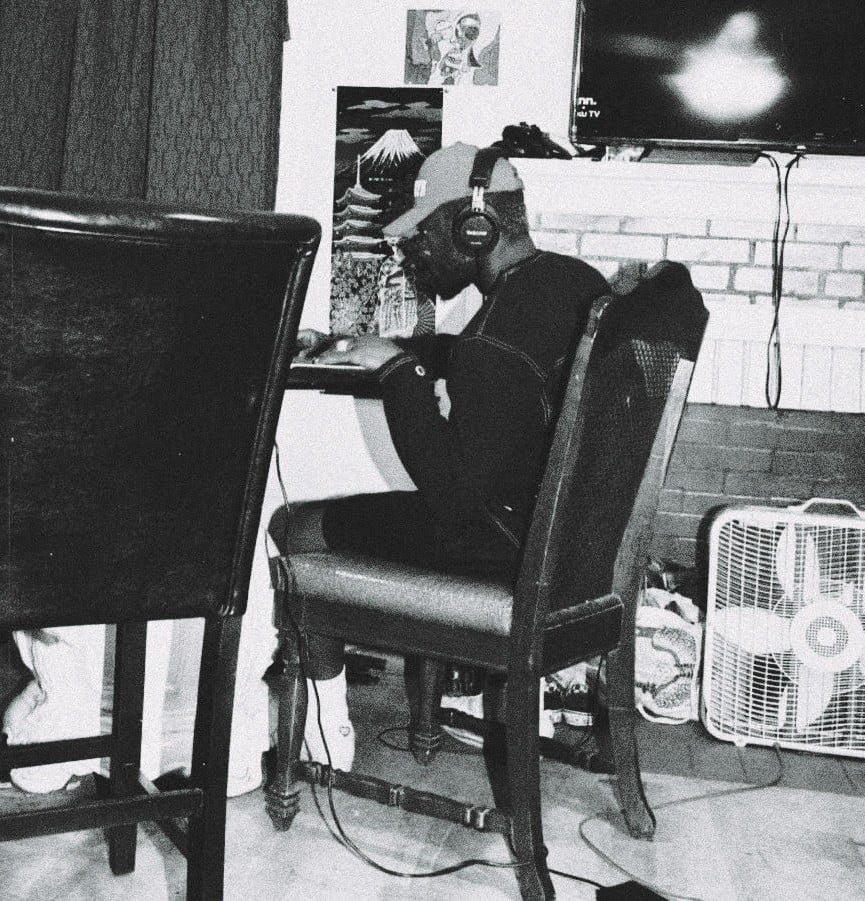 How have you overcome struggles to be where you are now?
Just choosing to go through whatever it is I'm dealing with because I can't go around it. However, there were also opportunities where I had to sit and think of ways to accomplish things and then take action. In my journey I've taken a train and had to walk close enough to get picked up so I can record with a man named Paul who was a great engineer and actually did the mixing for a Tay K song. I've recorded in the back of a convenience store, in the closet of my grandfather's house, when I was healing my leg and I was using just my earbuds. I wanted to make beats but I didn't have a laptop so I made them on my phone, and I consistently did this in the hospital too when I broke my leg. So even when I was laid up in a hospital bed I was still cooking. I've just always try to focus on the positives and find solutions in certain situations.
Slab Osiris, a multifaceted artist, goes into further detail about the challenges he overcame to get to where he is. Slab Osiris perseveres because he is aware of how his challenges have strengthened him. "I would mainly say I've had learning experiences. I feel obstacles is kind of like a negative connotation when in truth I feel like the obstacles are learning experiences. Like I mentioned before, breaking my leg and healing from it was a significant learning experience because I got to learn about my passion and my purpose in life. In me not having a car but finding ways to record anyway that's me learning how I can think on my toes. The true obstacle I would say is something I've tried to overcome is overthinking because if our mind shapes our thoughts I see overthinking as like a fog in your brain and you forget to see things clearly."
Slab Osiris asserts that his own inspiration and determination, together with the encouragement of others, have led him to where he is today. He went on to remark that his passion for music will always serve as his source of inspiration and that his family had a significant influence on his career. "My grandfather, my pops had some influence in my music taste and so did my mother. Also Smoke and Neesha at Ascension Studios those 2 are some beautiful people and they've taught me a lot and my boy Crunchy Riot helped me see how easy you can make the choice to do whatever you want. Some musical influences are MF DOOM and J Dilla and Also Madlib." Slab Osiris sees himself as an ambitious artist who, as a result of his work ethic and tenacity, has become more of an inspiration and go-getter to others.
Others admire him. The focus of Slab Osiris's attention is now on continuing to pursue his career in order to strengthen his already solid foundation even further. Slab Osiris has his eyes set on the prize and understands that in order to succeed, he must not only invest in himself, but continue to strive each and every day.
Public Relations Agency, #Focuseddd, highlights the skills and motivations of people who have a good reason for what they do, like Slab Osiris.
Instagram: @slabosiris
Twitter(X): @slabosiris
Apple Music: Slab Osiris
Spotify: Slab Osiris