"Stories of the Goddess: Divine Feminine Frequency Keepers"
Curated by Radhaa Publishing House
Author Spotlight: Amorita Z. Mugno
"Stories of the Goddess: Divine Feminine Frequency Keepers" is a powerful and inspiring book that celebrates the courage and determination of women who listen to their hearts and follow their inner knowing above all else.Women worldwide have been suppressed and subjugated for too long, forced to hide their gifts to survive in a patriarchal society. But now, these women have reclaimed their inner magic and embraced their divine feminine energy, rising above obstacles and serving as champions of the Goddess.
The book showcases various archetypes of the Goddess, offering a glimpse into a world where the divine feminine and masculine work harmoniously to create a better future for all. The stories of resilience, courage, and determination will inspire you to tap into your inner magic and rise as a champion of the Goddesss. As the keepers of our ancestral heritage, charged with upholding the honor of our families and tribes, the Divine Feminine calls upon us to use our hearts and wombs to create a better world with love and integrity. Within each of us lies the power of the Goddess, waiting to be awakened by the unique light frequency we emit.
Join the movement of women worldwide who are rediscovering their inner magic and rising to their rightful place as leaders and visionaries. "Stories of the Goddess: Divine Feminine Frequency Keepers" reminds us that we all have a connection to the divine feminine, waiting to be awakened by the stories of those who have come before us. Get your copy today and tap into your inner Goddess, HERE: bit.ly/3Z8zeXE. Today we interview Amorita Z. Mugno.
Q. What inspired you to contribute to the Stories of the Goddess book, and how did you choose the topic or theme for your chapter?
A. The moment I read the title of the book & saw the cover I instantly KNEW it was something that I was meant to be a part of. I could feel all of the love & intention that had already been invested into this collaborative masterpiece & my Highest Self lovingly reassured me that this opportunity was shared with me for an important reason. One of my very best friends, Jessica Phillips, who is also an author in this book, kindly shared this opportunity with me. Jessica is the reason I was able to confidently say yes to the opportunity to be a co-creator for this book & I thank her for lovingly reminding me that it is up to us to say yes to opportunities that are presented to us, if they're in Divine Alignment, of course. Choosing the topic/theme for my chapter came pretty naturally. Although at first it was definitely challenging for me to focus on just one Goddess, since I work directly with so many, it came through very strongly that the Goddess I needed to write about was the Goddess that lives within every single one of us!
Q. Can you share a little bit about the process for your chapter in Stories of the Goddess book?
A. The Goddess that first came forward to support me in writing this chapter was Diana. She kept coming through to me & I could sense that she was going to support me as I channeled the chapter. My biggest intention in being a part of this collaborative piece was/is to share openly, honestly & authentically as I wrote about how the multiple forms of the Goddess have supported me throughout my entire life, even before I realized it consciously. I genuinely believe the Goddess comes in many forms & many archetypes, so I wanted to write in a way that would remind us all that the Goddess lives within us & we each are going to connect with the Divine Feminine energy in our own unique way! I set the clear intention to be a divine channel for the Divine Feminine energy to share whatever it was that needed to come through for this particular book. My unique meditation practice definitely supported my writing process & allowed me to become clear on what aspects of my story needed to be shared within this chapter! As my first published piece of writing, It was so special being able to connect with the other powerful women who are authors in this book on our group calls & it really helped support my writing process!
Q. Can you share your thoughts on the role of the divine feminine in creating a better world?
A. I truly believe it is the Divine Feminine energy & frequency that our world needs most right now. The Divine Feminine energy recognizes the importance of balance & does not try to overpower or overrule the Divine Masculine energy. The Divine Feminine energy understands the sacred ebb & flow of life & knows that there is a harmonious balance in all living things, while reminding us that everything is living. I genuinely believe it is the Divine Feminine frequency that is grounding HEAVEN on EARTH & that this is why we're here on the planet right now. We are being invited to remember our own personal sovereignty, while also recognizing that we are constantly contributing to the entire ascension of the collective consciousness at the same time. This is the great ripple-effect & it is the unconditional love of the Goddess that reminds us we are all just walking each other home.
Q. What do you hope readers will take away from your Stories of the Goddess chapter?
A. I hope my chapter lovingly reminds every reader that we are never, ever alone & that we have ALWAYS been held. My intention is to guide the reader's back internally into their own sacred essence & to allow them to remember that everything they need, is already within them. So many times we are conditioned to believe that what we need exists OUTSIDE of us… but really we have the ability to tap into the God/Goddess consciousness anytime we wish to, as it lives infinitely within us.
Q. How do you feel about the overall experience of being a part of the Stories of the Goddess book project and working with Radhaa Publishing House?
A. It has been such an incredible experience to work with Radhaa Publishing House & all of the beautiful co-creators of this book. The collaborative energy is really what drew me into this opportunity & it was such a blissful & supportive experience to share this journey with so many remarkable souls. I am truly honored to have had the opportunity to be a part of something so sacred & special.
Q. Can you speak to the importance of sisterhood and community in the goddess's journey?
A. Community truly is everything! There's a reason why the expression "It Takes A Village" exists… because it really is so true! In our culture, especially as women, we are pressured to carry the world on our shoulders. We are conditioned to believe that we must do everything ourselves in order to be truly successful & this is where we have become burnt out & have gotten a little lost & off-course as a collective. We really are all sacred mirrors of one another. When we recognize this, it inspires us to treat others in the ways we wish to be treated. Our world is groomed to fall into the illusion of separation, so we need unity in the world now more than ever & to remember that we truly are all one!
Q. What are your specific offerings, and how can people find you?
A. I genuinely believe I am here on this earth right now to be a pure channel for Divine Healing & Divine LOVE! I absolutely love working with beautiful souls one-on-one & I have also grown in love with creating group offerings as well. One-on-one I offer energy healing as a Certified Holy Fire World Peace Reiki Master, channeled intuitive readings, divine guidance (which is my own spin on life-coaching), & mentorship for multi-passionate creators who want to live life on their own terms & truly pursue their passions & hearts most true desires. For my group offerings I have a series of Inner-WorkShops that offer a container of guidance & support for those who are in love with personal development & want to learn in their own unique way as they're free to go at their own pace. My offerings can be found on my website, www.amoritaspurpose.com.
I share a lot of my work on my instagram as well: @amoritaspurpose.
Q. How has Radhaa Publishing House supported you in bringing your vision to life in Stories of the Goddess book? What do you appreciate most about their approach to collaboration and partnership?
A. Radhaa Publishing house has really supported me by reminding me that I can do anything I put my mind to & set my heart on. I love how supported & inspired I felt throughout the whole process & this experience really showed me that sometimes the best thing we can do when we want to do something is to say YES & go all in! I have said throughout my entire life that I would "write a book someday" & now thanks to this collaborative journey, I am reminded that I definitely can & will! Starting with writing a chapter was an incredible start. I appreciate how loved I felt throughout the process & how encouraging the entire team was!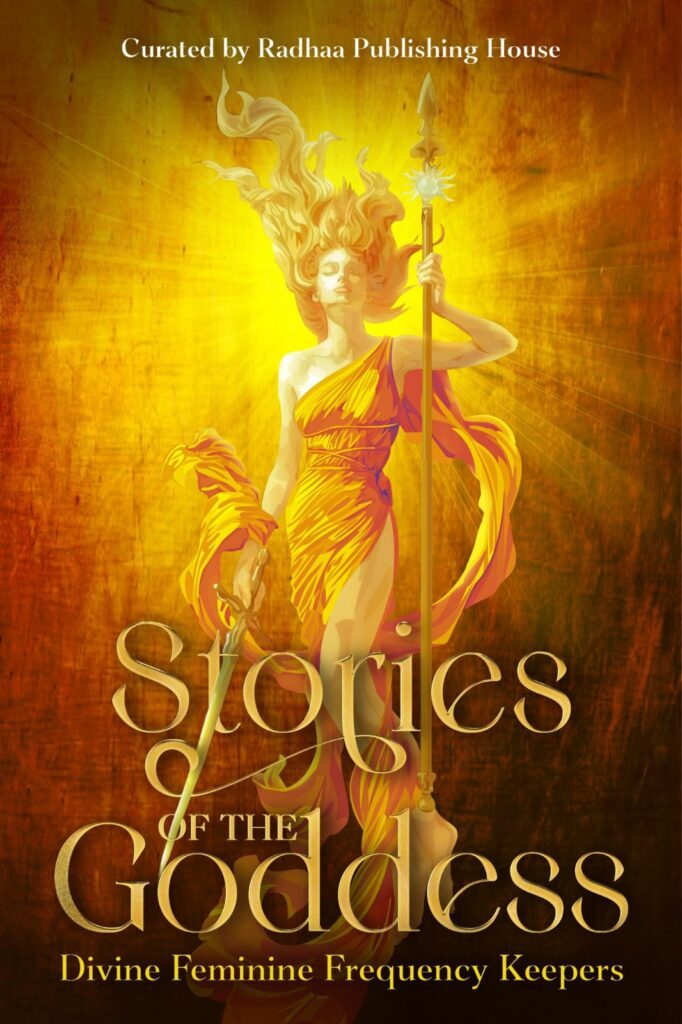 Q. What do you think sets Stories of the Goddess book apart from other books about goddesses or divine feminine energy? How do you see it contributing to the larger conversation about these topics?
A. I think the freedom each author had within this container is really what makes Stories of the Goddess unique. I can feel that every beautiful waymaker that committed to sharing their unique story in this book, did it in their own unique way & with an open heart. There were so many unique souls & "walks of life" that came together to co-create this book & I feel that it is going to open up so many opportunities for those that read this book & soak in all of the magic that is embedded through the high-vibrational frequency of this collaborative piece.
Q. What was your favorite aspect of working on the Stories of the Goddess book project, and how has it influenced your personal and spiritual growth?
A. I genuinely grew in love with the entire process. I really loved our group calls, because we all were able to hold space for each other, hear one anothers stories & inspire each other along the way. It was so special to connect heart-to-heart & share such a loving intention of connecting so many through the unconditional love of the Goddess.
Q. How do you hope Stories of the Goddess book will contribute to the larger conversation around gender equality, Divine Feminine, and the reclamation of feminine power?
A. I hope that this book is able to be a living transmission of energy for the multi-dimensional infinite essence that is the Divine Feminine. We all have both Divine Feminine & Divine Masculine energies within us & it is important that we recognize that we NEED both to be in divine balanced harmony on Earth. The Divine Feminine energy has been suppressed & misunderstood for far too long, so I hope this book will help bring awareness to what the Goddess truly is. I trust that the book will be able to open up deeper conversations about reigniting the power of the Divine Feminine energy within us all.
Q. How do you think Radhaa Publishing House is helping to elevate women's voices and celebrate the divine feminine through the Stories of the Goddess book and other publications?
A. I believe Radhaa Publishing House is contributing to raising the collective consciousness by bringing women together & reminding us all of the power of collaboration! We are stronger together, so I love that these publications are able to feature so many unique & sovereign voices.
Q. Can you speak to the level of support and collaboration you received from Radhaa Publishing House throughout the writing and publishing process and how this contributed to the success of your chapter in Stories of the Goddess book?
A. I felt so supported throughout the entire journey of bringing The Stories of the Goddess to LIFE! It has been such an honor to birth this piece all together into the physical & watch it come to life! It definitely supported my writing to know that I was being held energetically as I was unconditionally loved & supported throughout the process.
Q. Can you speak to the importance of creating spaces and opportunities for women to share their stories and perspectives on spirituality and the divine feminine? How do you see Stories of the Goddess's book contributing to that vision?
A. I believe it is so important for women to come together in safe & sacred spaces where they're able to speak their truth freely & feel held throughout the process. Last year I was able to create & host 8 Divine Feminine Workshops & they were absolutely life changing. I couldn't even believe how many women opened up & shared that those 2-3 hours in the circle genuinely changed their life. It is so amazing to witness the magic that happens when women come together with open hearts & connect with one another in this way. I believe that The Stories of the Goddess will be a beacon of light for more women to know that it is safe to share their own unique story. I could even see womens circles being hosted using the book as an anchor for important topics of conversation. I truly believe there are no limits to what this book can create & the impact it has the ability to have is truly infinite. I also trust in the unique gifts & 'AHA' moments it will bring to those who read the stories within.
Q. How do you see the Stories of the Goddess book continuing to empower women and promote the divine feminine in the future?
A. I think this book is going to remind so many women that they're never alone & also that they have the power to share their own story as well! I truly believe that the more we share our own journey vulnerably, the more we will attract our soul family who have experienced similar & even parallel experiences as us. Again – it reminds us that we are never alone & that we are all sacred mirrors for one another.
Q. What role do you see yourself playing in this movement?
A. I believe I have a unique role in this movement by continuing to share my own experiences & holding a safe space for other women to remember they're free to do the same. I know that every single being on Earth has their own unique set of gifts, & I find that the more I tap into & share my own gifts, the more I am a living reminder that it is safe for others to do the same! I absolutely love being an advocate for greater expansion & I believe that using our voices can create a great impact that will lead to us, as a collective, growing together while being able to make an impactful difference and ground Heaven on Earth together as one.
Q. Can you share your superpower and how it connects to your writing and spiritual practice? How do you hope to inspire and empower others through your work?
A. I have found my superpower in being my full unique & authentic self! The more I peeled back the layers of conditioning to find who I truly am to the core, my unique soul essence, the more I was easily able to connect with my Highest Self. The more I can connect directly to my Highest Self, the more I can consciously commit to showing up to every single aspect of my life as her! By doing this, I hope I may be a divine channel for true love on Earth & to remind us all that we really are all LOVE in HUMAN FORM!
Q. Can you share any upcoming projects or initiatives you are working on or excited about?
A. I just released a new Inner-WorkShop called 7 Days, 7 Chakras that I am very excited about! This workshop contains a lot of information on our energy centers, as well as a divinely guided meditation & energy activation for each chakra. My hope in creating this was that it could be utilized as a tool/daily practice to support us on this intense human earth walk. It is so important that we are mindfully making the choices to maintain a state of full balanced harmony while opening our chakras to their perfect & healthy state. I absolutely love channeling guided meditations as I know how supportive these meditations can be on our journeys. My next workshop is going to be a Little Me Workshop Part 2; catered to our own inner-child healing. Something else that I am currently very inspired by is the fact that I just officiated my very first wedding & it gave me the beautiful realization that I just rediscovered another layer of my purpose. I wish to not only officiate more weddings/ceremonies of love, but I am also excited to pursue a career as a loving counselor to couples prior to their wedding, as well as after their ceremony as well.
Q. What do you believe is the ultimate message or takeaway of Stories of the Goddess book, and how do you hope readers will engage with and embody that message in their own lives?
A. We each are unique, special & sacred in our own way & the Divine Feminine essence lives infinitely in every single one of us! We all are powerful co-creators & by embracing our story & embodying the lessons, we are able to contribute in raising the collective consciousness & grounding heaven on earth!
Amorita Z. Mugno BIO:
As a Divinely Guided student of life, Amorita is humbled and honored to be of service to the collective through her unique purpose and mission. Considering herself a passionate advocate for growth, healing, and reclaiming personal sovereignty, Amorita holds the pure and loving intention to remain in divine alignment with her highest and most authentic Self while inspiring others to do the same, wherever they are on their path. Attaining various certifications and embodying impactful lessons throughout her journey, Amorita shares her gifts and intuitive wisdom through a grounded and heart-centered space.  Her multi-passionate offerings include creating and hosting Inner-WorkShops; speaking, writing, yoga, 1:1 coaching, group coaching, intuitive channeling through oracle readings, energetic healing, Holy Fire® Reiki, and guided meditations. Amorita speaks freely on her podcast, The Shrink Yourself Podcast©, as she encourages all to "Spread the Love, Be the Peace, Bring the Light." www.amoritaspurpose.com 
Instagram: @AmoritasPurpose.
Join the movement of women worldwide rediscovering their inner magic and rising as today's feminine leaders. Tap into your inner goddess with "Stories of the Goddess: Divine Feminine Frequency Keepers" at bit.ly/3Z8zeXE. Unleash your writing potential and become part of the community of conscious authors at Radhaa Publishing House, where we champion the voice of the feminine. Collaborate with like-minded writers on a journey to publishing success and join our community of goddess storytellers. Elevate your writing and connect with a community that shares your passion for conscious living and empowerment at www.RadhaaPublishingHouse.com.